By Niamh Hanlon  
Picking the perfect suit for you and your partner is one of the most exciting parts of preparing for a wedding. There are so many styles, materials and even colours to choose from. We know how important it is for you to feel like a million dollars on your big day so we have put together a number of ideas to take into consideration for picking your suit. 
Things to consider  
Firstly, you want to address your dress code, is it traditional black–tie vibe or are you going for more of a smart casual look? Consider time of year and fabrics to make sure you're keeping cool on your day. Heavier material such as tweed, cashmere and wool are more suited for winter months whereas something more breathable fabrics. You can also decide whether you want to rock a matching suit or show your own unique style with two different looks.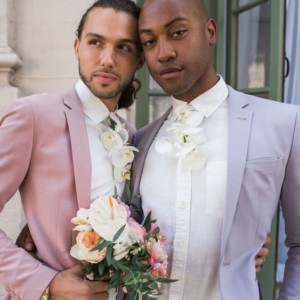 Photo: Pinterest
Accessories  
Add some pizzazz to your look with some fab accessories! There are so many ways of dressing up your suit. The ties you wear can be matching one another or they can match the contrasting décor of you wedding venue. Or you can choose a colour or pattern that will really show both your personalities. Next on the suit list is the cuff links, these can be something you can gift one another before the wedding. You can make it your own by getting your initials or something that shows your personality, add some sparkle or colour. Opt for some fresh flowers to wear as your boutonnieres. Feel free to add a little sparkle or even add a little rainbow if you want to be that bit extra AF!  
Photo: Pinterest
Casual Look  
If you're having a summer wedding and you're after a more subtle look then this is the one for you. Pair some stand out slacks with a plain tee and a fitted blazer. This is the perfect smart- casual look for summer. Get fancy with the footwear and pair it with some fancy loafers and let the outfit tie itself together; without the tie that is! This look may not be to everyone's taste but it's your big day so feel free to step away a little from the rule book and give this look a go.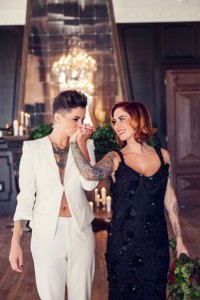 Photo: Pinterest